The farm is on top of a hill, with a lovely run-in shelter and feed room attached.  Lots of trees surround the area and pastures.  We recently moved from Ontario and we had an adventure getting here, as dogs, chickens and I drove here in 24 hours.

This has been my dream since I was a young woman in British Columbia.  I wanted to have a parcel of land that would allow me to have horses, dogs and cats in abundance. 

To help me create and maintain this dream I took the online courses offered through the University of Guelph, Ontario. Equine Guelph is the department that offers these course.  After 5 years of online study, I graduated in May 2010 with my Diploma in Equine Studies, with Distinction.  To get more information on how you too can get your diploma, or just be more knowledgeable in equine care, go to www.equineguelph.ca/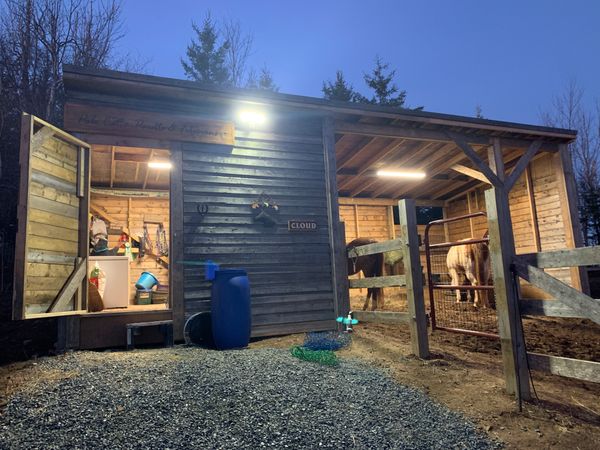 How it all started

I started my horse purchasing in 1998 with Boomer when he was nine. I rode him everywhere. Boomer has always been the "king of the herd" and he passed Nov 3, 2022. Now he is riding the rainbow bridge with Mekeezun and Avita. Boomer was an AQHA Appendix Q-Horse.

In 2000 I purchased Mekeezun. She was a feisty APHA mare of 4 when I bought her, and she was in foal to Shadow. She was fun to ride, with reining and ranch training she could turn on a dime and move with the best of them. A cowboy friend had many joyful rides on her back. She passed away in July 2007.  To read her story go to In Memory Of.  It was on Mekeezun's death that I started making dream catchers. If you wish to see samples or want one for yourself, go to Dream Catchers.

In 2003 I purchased Cloud. He was 3 when I bought him, green broke and willing. Now he is my main riding horse. He loves to be ridden, enjoys visiting other horses, and in general is one of a kind. He is an APHA  sorrel gelding.

I have always wanted a Friesian horse. I love the look, the movement and the temperament of this majestic breed. In 2002, to get started in my dream of a  Friesian, I bred my paint mare Mekeezun to a Friesian stallion named Ljibbes Valour.  And in March 2003 the result was the majestic Nitika. I sold her when she was 6 and now is a wonderful dressage horse.

In 2006, I re-bred Mekeezun to a different Friesian stallion, named Matthijs R.J. This union produced Metina a lovely filly. Mekeezun passed away when Metina was 7 weeks old.  Metina was sold when she was 4 and just lives in Ontario on a wonderful farm.

In early 2008 I purchased Ouray and he is a wonderful sweet boy.  His black and white colouring looks like arrows on his back and legs. He is an APHA gelding. He had been ridden a lot before I bought him, and has been being played with in the 7 Parelli games, where he really started to come into himself. I gave him to a friend in Dec 2012.

In March 2008 I was fortunate to meet Avita (Jurjen X Able 344), a 2000 Friesian mare. She was for sale and the owner was willing to sell her after she had foaled. Over the next 8 months I waited impatiently while Avita foaled a lovely filly, and weaned her.  Then in November 2008 she came to my farm.  Avita passed away Friday, Sept 3, 2021 from Mega Esophagus.  She is missed a lot!!

In May of  2011, I brought home another Friesian mare. She was born in 1998. Her name is Tjalline Fan't Westerskar (Gradus 356 X Peke 268). Tjalline is pronounced Chaleenah. She has had 5 foals and was ridden dressage. Since she has moved to the farm she has become the sweet heart of the herd. She is ridden here as a trail horse, used in weddings and in 2013 foaled a Gypsian colt named Sakima.  I sold Tjalline in September 2017 and she passed away late December 2022 from colic.

On May 28, 2013 Sakima (Rumsey X Gradus 356) was born. He was my next stage in breeding my dream horse. He is a Gypsian, a fairly rare breed and a lovely example of the best of two breeds.  I sold Sakima September 2015 to his best friend and he now lives in Ontario on a lovely farm.

Over the years I have been very privileged to be the companion of many dogs and cats. Currently Storm, a GSD/Rotti, and  Bear a GSD. Each four legged has a different personality and creates a lot of fun and laughter for me and my friends.